Sign Up For New Interviews
No Spam Guarantee
Recently I wrote a post about how Fitness Business Interviews was going to be making some changes. One of the changes was to make the interviews shorter. And that is being done with current interviews. But from time to time, there will be some that will just have to go longer because they are so good. And this interview with Brian Devlin is one of those. So check out the interview to see what I mean.
Audio/MP3 Download
Audio clip: Adobe Flash Player (version 9 or above) is required to play this audio clip. Download the latest version here. You also need to have JavaScript enabled in your browser.
In this interview with Brian I had to break it up into a few parts. What you are seeing above is part 1.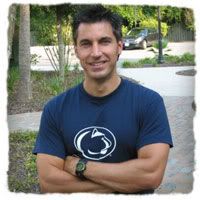 From time to time there is just some info that is so good and refreshing there needs to be no time limits on what is shared.
And in part 1 of this interview, Brian talks about how he got into the industry and built one hell of a fitness business.
What's really cool is he talks about how to build a six figure personal training business without all the shiny marketing hype we are always hearing about.
I've gotta say, it's refreshing.
You get to see how Brian was able to literally map out his plan for domination, and what he did to make himself stand out from the competition.
Plus it's just one of those awesome stories you get sucked into.
Brian Devlin Six Figure Fitness Business Interview Highlights
How Brian got started in the fitness industry.
When he wanted to do his own thing.
How he got his first personal training clients.
Why starting in a gym training is the best bet.
How he sold his memberships.
Why having tunnel vision with his clients was huge for him.
Why you should NEVER go in and focus on being a six figure trainer.
How Brian was able to get the most results for his clients and himself at the same time.
How he set himself apart from other trainers in the gym.
How he closed prospects so well.
How he got the facility owner to let him have his own business.
What types of struggles Brian had to deal with.
How he kept other competing personal trainers happy.
How Brian was able to duplicate himself and what the process was like.
How to get into a new facility with ease.
Why Brian was very unhappy and how he was able to overcome it.
In the next part (coming soon), Brian talks about what the 3 stages of success are, why it's important to know your core values, and what it takes to become the expert in your niche.
Until part two is up, check out Brian's Blog at… www.PtExplosion.com

Do You Have The 17 Habits For Success?

Enter Your Info To Get The Free Video And See If You Have Them
| | |
| --- | --- |
| | We hate spam just as much as you |