Sign Up For New Interviews
No Spam Guarantee
Erik here. I wanted to let you know that I've got a guest post from one of the coolest guys I know. The interesting thing is that he is no longer in the fitness industry, but his impact has been felt all around the world.
The guy I'm talking about is Brian Grasso. If you don't know Brian, well, basically he created a whole new playing field when it came to the training and conditioning of our youth. He was the former CEO of the IYCA.org, and he literally changed the way we work with youth athletes.
Even though Brian is no longer a part of the IYCA he was cool enough to share a guest post with some awesome fitness advice. It includes a message that we need to keep in mind as we continue on our journey in the fitness industry.
So, take it from here Brian…
I spent 16 years serving in the Fitness and Sport Training Industry.
In that time, I trained Olympic Gold Medalists, more than 20,000 athletes worldwide, traveled internationally as a guest lecturer, wrote and published 3 bestselling books, designed and engineered my own line of fitness equipment and founded 2 legacy-oriented organizations than have, and will continue to, alter the face of fitness for years…
No, I'm not arrogant.
I just never took a single 'normal' step in my entire career. And to find true fulfillment-based success, neither should you.
Moments like this changed my life…..
Craig had flaming red hair, a subtle Scottish accent and an incredible twinkle in his eyes.
I couldn't quite believe it when I found out that he was 43 years old.
Then again, I was 18 and 43 sounded like it should include a cane, some serious balding and stories that started with, "back when I was your age…."
But Craig never told stories like that.
His tales were about the experience of a world-tour.
Playing 32 countries in 6 months.
Booze, women whose name's he couldn't remember and sleepless nights filled with the juvenile, destructive antics reserved for rock star royalty.
Exactly what Craig was; once upon a time.
Now, a member of the house band that played at one of the dive bars I used to work as a Bouncer at….
…. But 20 years before, lead guitarist for one of the most well-known and progressive bands during the "punk-turned-synthesizer-pop" musical era abyss, otherwise known as the 1980′s.
He still had the thick, red locks; and thrashed them around our bars' 4 x 4 stage with as much vigor as he did when playing sold out shows in front of 30,000+.
He still used down times between songs to dispense epic analogies about how to live life on the edge and raise hell; although his audience was no longer 20-something year old women crying in lusting angst at his sultry voice – they'd been replaced by a motley bunch of hard-nosed drinkers, any number of which would become my problem as soon as the bartender decided to cut them off for the night.
Most of our staff used to poke fun at Craig; and most of the time, behind his back.
He had a way of closing his eyes and looking up towards the $4.99 spotlights we had hanging over his performing area during the guitar solos of the songs he was playing.
"He thinks he's still playing Madison Square Garden", they would jest.
"That man needs to get his ass out of the 80′s and realize that he's a has-been".
One night after work, we were all sitting around at the back of the bar; customary after a Saturday shift that included a full capacity crowd, 8 fights and no fewer than 10 verbal threats on my life from drunk, testosterone-filled fools.
Craig was spinning my ear about the usual.
His touring days.
The crowds.
The fanfare and experiences.
"I know some people think of me as a guy who's still pretending he's someone important, Brian"
His candor caught me off guard.
"But I don't really think of myself as a rock star anymore", he continued.
I was intrigued and wondering where this conversation was about to go.
"Music is my passion", he said.  "I play on this stage like I used to on the big stages in Europe, Asia and Australia"
"I'm 43 and most people don't believe that.  But my secret to looking and acting this young isn't nearly what people think it is….."
The "Secret of Youth" isn't really an exciting topic when you're 18.  But the tone of his voice was telling me that what I was about to hear would be important.  So I listened; with full attention and an open heart…..
"Find your passion, brother.  I'm not trying to recapture my touring days up there", he said pointing to the performing area we called a stage.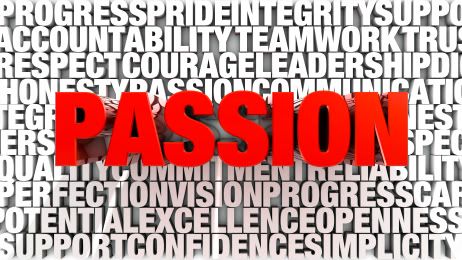 "Life is my stage.  Music is my passion.  Every day, I step on the stage of life and play my heart out….."
Absolutely epic words from one of the most interesting men I ever knew.
Do you know what your passion is?
Be sure to leave a comment and let me know what it is below.
Brian Grasso is the founder and former President of the IYCA.org. Brian's new venture has been to spearhead the movement he calls Free Thinking Renegade. To see what this movement is all about, and what he's up to visit  www.FreeThinkingRenegade.com

Do You Have The 17 Habits For Success?

Enter Your Info To Get The Free Video And See If You Have Them
| | |
| --- | --- |
| | We hate spam just as much as you |