Sign Up For New Interviews
No Spam Guarantee
So a while back I sent out a survey that was called, is Fitness Business Interviews boring? I received some really interesting responses to the questions I asked.
And I wanted to share the responses that I received and give you an update as to where FBI will be headed.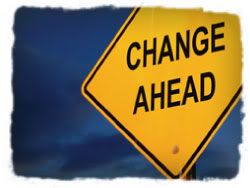 Also, after running this survey, I discovered a lot about the site and realized there are a lot of cool ways to make positive changes.
Like anything else when changes are made, some people will like them, some wont.
So I'm expecting some interesting feedback on the upcoming changes. Feel free to let me know what you think in the comments below.


The changes are based on the what the majority of people voted for in the survey. And maybe I'll add a little twist to them to make sure things stand out.
Speaking of standing out, I don't think I've seen anyone in the industry reveal the specific results and actual answers of a survey.
And since this was an anonymous survey (I don't know who the responses came from), I'm going to share a few of the actual responses that people left so you can see what others think about the site.
The answers to some questions had written responses and others didn't. That is why you will see a few questions that have written responses and others don't.
I also left a few questions out because they really weren't applicable to specific changes for the site. They were for some of the behind the scenes stuff I was thinking of doing and I wanted to get a feel for what people would have liked.
So the number order you see below will be off.





As you can see, the response to this is split pretty evenly. When it comes to surveys sometimes they don't help as much as you would like, but there are reasons for that which I will cover in an upcoming post.

Based on this survey I've already made some changes to the site that you may have noticed.
For example this post is not an interview. It's written. Based on the feedback it seems people like the mix of interviews and written posts. So I'm going to go with the mix of interviews and blog posts.
Also, I've included a lot more graphics with the written posts. The video interviews are tough to change up the graphics within the video because I have to work with other busy fitness pros.
Having them supply me with video and pics to use in the interview is tough for them to do. I've already tried it, and it hasn't worked out too well. That's just because they are crazy busy. So I have to respect their time.
The other thing that I find interesting is that some people want me to interview more of the bigger names, and others want me to interview the "small guys."
So determining which direction to go with that was tough. So what I've decided to do are different series from time to time. For example, I did the Female Fitness Entrepreneur Series which I thought came out pretty good.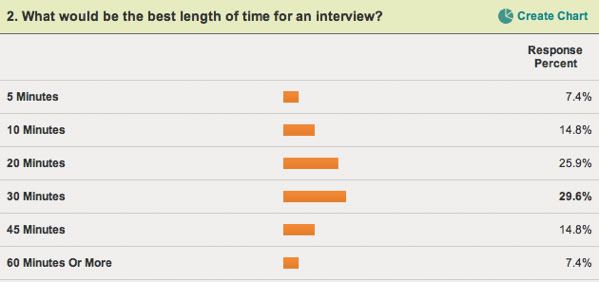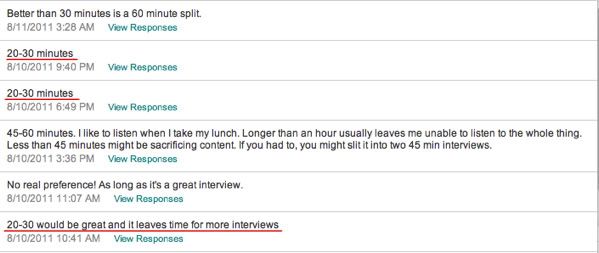 This one I already knew the answer to. I need to make the interviews shorter.
They will now be between 20-30 minutes, and much more precise. I'm working on a few ideas of a layout to do the interviews differently. That way they are more entertaining, but will have just as much content as a longer interview.
For some interviews, I will split them into two shorter parts. But I wont do that much. I've tested it, and I notice that people generally wont come back to watch the second or third parts.
They would rather get an interview with one person all at once.
Also, one thing I didn't cover with this question is how many times should I post interviews each week.
I started out doing 3 a week. That was way too much. People didn't have the time to watch or listen to 3 a week. It was too much content. Plus it was killing me trying to schedule all of the interviews and put them all put together.
It actually takes about 7-9 hours to get one interview done and posted. That's after having a system down to do it. It use to take way longer than that.
So then I went to twice a week. But I still ran into the same issues. Two hour long interviews a week was still a lot.
So recently I've been doing one a week. That seems more manageable for the visitors and for me. But since I will be doing shorter interviews, I may go back to a few times per week.
Plus I can include a written post during the week also.
Oh, and one interesting thing I've noticed. Responsiveness and comments have increased when there isn't so much content and when it is mixed between interviews and written posts.
Too much content seems to lower the responsiveness of visitors.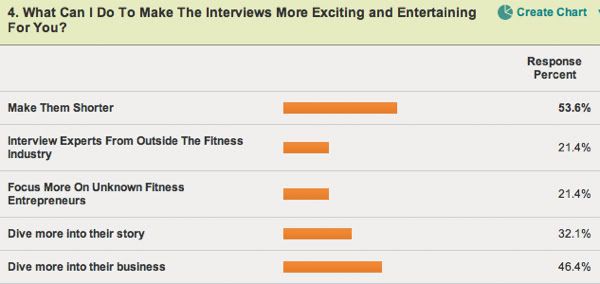 As I mentioned above, it's really obvious that I need to make the interviews shorter.
I will also be diving more into their business, and how their business operates.
As I'm working on the layout for the new interview style, I'm going to test a few different ways to break down the interview. This is still in the works.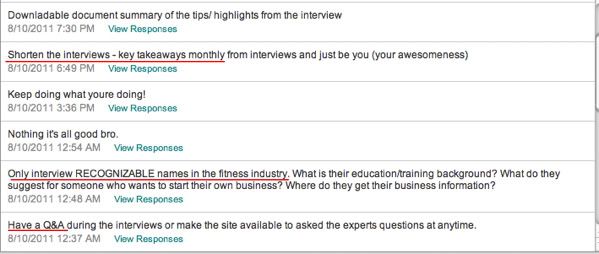 This question had a huge range of responses. I was only able to show a handful of them.
Based on the feedback from this question there are two big things I am going to do.
The first one is include questions in the interviews that are submitted by you.
So I am going to either have a form where you can submit questions and I will read them to the interviewee so they can answer them, or I will email you and ask to submit questions for the interview coming up.
I've been wanting to do this for a while, and I think it's going to be pretty cool to have the interviewees answer some of your questions.
The second thing I'm planning on doing is having a monthly report. I will go over who was interviewed, and what the key takeaways were from each interview.
This will be a good breakdown of exactly what was discussed and what were the most important topics that were covered.


This one is pretty simple. I will be looking to take on guest posts that are related to building a better fitness business and life.
I haven't asked for or taken any yet, but I will be doing that soon. If your interested in guest posting click here. Have the subject line say "Guest Post."
I will get back to you with the criteria and what I'm looking for.





I left this one in here to show you because I thought it was really interesting to see what people thought about the fitness business building products that were available to them.
I wont be making any direct changes to the site because of this question, but I will make sure that any fitness business products I create are not going to be "average."
I am happy to see that most people feel that the products out there are decent. If people were saying they were bad, that wouldn't be good for the industry.
One thing I should've done is ask why most products are only average, and what would make them great?
Actually, feel free to answer that below. Check all that apply.
So those are the questions and answers to the survey I sent out a while back. The changes will be taking place pretty quickly. Although the next few interviews you see may still be with the longer format. Once those are posted you will start to see the shorter interviews.
Oh, and one last thing. From what I see, most of the feedback of the site was that it was NOT boring! It just needs some changes to make it better.
And that's what the site is going to get.
So thank you to all of you who participated in the survey and helping to guide the site in a new direction. Your guys friggin rock!
Lastly, I want to know what you think about the changes I'm going to make, and if there is anything else you would like to see. So leave a comment below.

Do You Have The 17 Habits For Success?

Enter Your Info To Get The Free Video And See If You Have Them
| | |
| --- | --- |
| | We hate spam just as much as you |